Jared Allen "Get Rich" Holmes
From Altus,Oklahoma,
He is the youngest of three boys, What sparked his interest in the music industry, his dear friend/partner was gunned down in a fatal shooting in the midst of their uprising which forced him to reconsider his rap career. As time progressed, he gradually began inserting himself into the studio to start his unfinished business, he then, hooked up with a few local artist that banned together to form the Oklahoma based group, "Blk Starzz". After re-Inventing myself, now I'm better know as
"Get Rich Holmes", with the new banger "Trail Of Smoke", 
Follow This Artist on Facebook: https://www.facebook.com/jared.b.holmes


LADYBOSS ENTERTAINMENT PRESENTS:
DEATH ROW CO-FOUNDER
LYDIA HARRIS
CONTINUES TO REIGN "LADY BOSS"
WITH NEW LABEL COLLABORATION
STR8LACE ENTERTAINMENT
Tank Law possesses the talent and passion to turn heads in the industry with his charisma, demeanor, astounding resume and his street credibility all at once.  While opening a show for Rick Ross, Tank connected to Meechie,  (CEO of Str8lace Ent.) to catapult his career into stardom   with collaborations with heavy hitters such as Super Producer T.A. (Young Jeezy, Rob Smallz, Bun B.), Drumma Boy (Chris Brown, Young Jeezy, Goapele,, Monica), Lex Luger (Kanye, Jay Z, Slim Thug Rick Ross) and now Lydia Harris former co-founder of Death Row Records!!!
CHECK OUT "TANK LAW" MUSIC ON SOUNDCLOUD
https://soundcloud.com/tanklaw
FOR BOOKINGS:
Contact Lady Boss Entertainment:
888-640-1280
info@ladyboossentertainment
"HOTT VIDEO BANGER ALERT" FROM: MACK TOWN RECORDS BUBBLICIOUS
THE [OFFICIAL] VIDEOExecutive Producer: Ronnie Mack
"BUBBLICIOUS" OFFICIAL "SINGLE RELEASE" ON SALE NOW!!
Download It Now@ Itunes
DJ's, Radio Personalities!!
Request This Video!! macktownrecords@gmail.com


FYEBOY "EVERYTHANG FYEBOY MIXTAPE" OUT NOW!!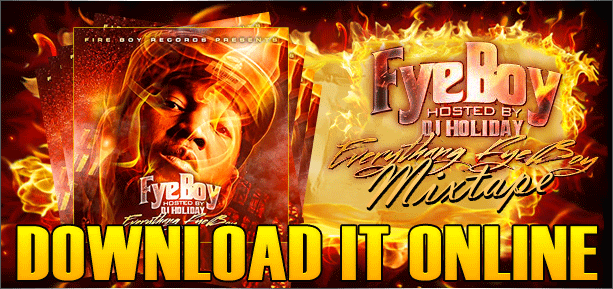 Tracks:
1.- DJ Holiday – Intro
2.- Beat That Pussy (Prod. by Javon On Da Beat)
3.- FyeBoy Speaks
4.- Place Your Orders (Prod. by AYO)
5.- DJ Holiday Speaks
6.- Outta Control (Prod. by Mike Dupree)
7.- FyeBoy Speaks
8.- Mr. Block Ft. Beanie Sigel Javon On Da Beat (Prod. by Javon On Da Beat)
9. - FyeBoy Speaks
10.- Grizzy Grind (Prod. by AYO)
11. DJ Holiday Speaks
12.- Money Money Ft. Paper Weight (Prod. by AYO)
13.- Dirty Dirty Ft. Mista Anderson (Prod. by Mista Anderson)
14.- FyeBoy Bookings
15.- All My Life (Prod. by Mike Dupree)
16.- FyeBoy Speaks
17.- Gat Party (Prod. by AYO)
18.- DJ Holiday Speaks
19.- FyeBoy Speaks
20.- Serve Them (Prod. by AYO)
21.- Higher Ft. Junior Reid (Prod. by Oz N Da Deacon)
22.- Ungrateful Ft. Bow Wow
23.- FyeBoy Speaks
24.- Krystale Derosa (Bad She Knows It) Ft. Sticks Supa Gutta ( Prod by Costs Beatz)
25.- Hold Me Down Ft. Tavoria (Prod. by Javon On Da Beat)
26.- DJ Holiday Speaks
27.- If I Was Your Man (Prod. by Crucial Beats)
28.- FyeBoy Speaks
29.- DJ Holiday – Outro
30.- Love 2 smoke ft.Sticks, Michael Stokes Supa Gutta (Prod. by M-Geezy)


DOWNLOAD THE WHOLE MIXTAPE HERE.

DIGIPROZS NEW ARTIST:



JoRen a 24 year old rap/hip-hop artist out of South Memphis Tennessee currently on a rise from the struggle to the top in a matter of months dedication and hard work with support of close immediate family members this is definitely a star in the making JoRen. He just recently recorded his new hit single "Promethazine Shawty" from the mixtape "From Memphis 2 Milwaukee Volume 1" He also has other tracks as well from the mix being produced by Jay Hoody such as "Inauguration" and A Killing.

This young Artist is unique an has a guaranteed successful spot @
stardom in the music industry. MAKE SURE U LOC 'EM IN!!



JoRen Wit Da New Banger "Promoethazine Shawty"
DOWNLOAD IT ON ITUNES



"STREAM IT NOW ON"
SOUNDCLOUD
http://soundcloud.com/digiprozs/promethazine-shawty-clean





Roman Zyion Milwaukee WI/Atlanta GA. POP & R&B Singer/dancer. I've been dancing since I could walk and singing since I could talk basically. Started off as a rapper but ended as a singer. Singing was more comfortable so you'll always hear something differnt and fresh with a mix of hip hop mixed Pop and R&B When I was about 10 that's when I was for sure that I wanted to be a successful music artist for the rest of my life. Around that time I started trying to take music more seriously but with no exact direction I didn't get very far. Around the age of 14 he started taking actions in his own hands by booking his own shows, writing his own songs, and making up his own dance routines.

Growing up, performing arts was all I loved and knew so I started to get into talent shows and music showcases around my city making a buzz for myself. I've always loved to entertian, rather it was singing dancing or acting. I love the feeling it gives me plus the positive feed back from my fans. so all of that made me who I am today.With a little inspiration from a mix of Michale Jackson, Usher and Chris Brown I found my Swag. Singing and dancing became my passion! My family, fan's, and most of them all GOD is all I need.
LINKS:
Twitter: http://twitter.com/RomanZyion
Facebook: http://facebook.com/RomanZyion
Instragram: @RomanZyion